Ireland's Hidden Heartlands
Explore the green heartland's natural beauty, where activity and relaxation are centred around rural communities. The Hidden Heartlands lifestyle can be discovered across a lattice work of land and water trails, showcased by the iconic River Shannon and the Beara Breifne Way.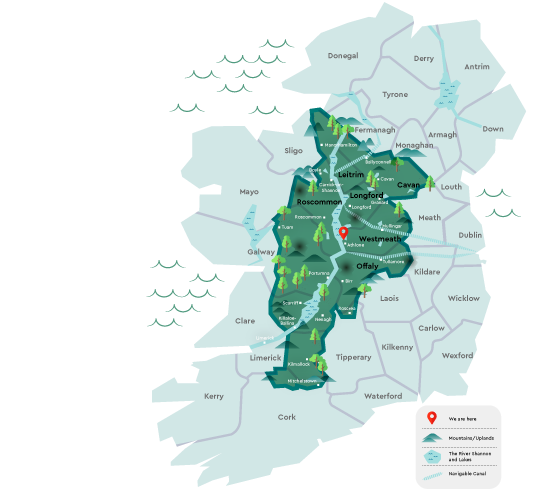 Ireland's Hidden Heartlands is close to all the main cities of Ireland; yet it feels far away from it all. Dip your toe into not only the lakes of this region but also the culture, immense historical significance and, most importantly, the spectacular nature on offer.
It's time to slow right down to the flowing water's soothing pace. Stretching across eleven counties, the rich, rural landscape of this captivating part of Ireland is both rugged and beautiful in equal measure, and absolutely flourishing in wildlife.
Whatever your preference, the River Shannon is filled with breath-taking vistas and enriching experiences that will leave you intrigued, relaxed and looking forward to your next trip with us.
Activities & Attractions
Some of Ireland's Hidden Heartlands attractions that you can experience when you take a Barge journey with us.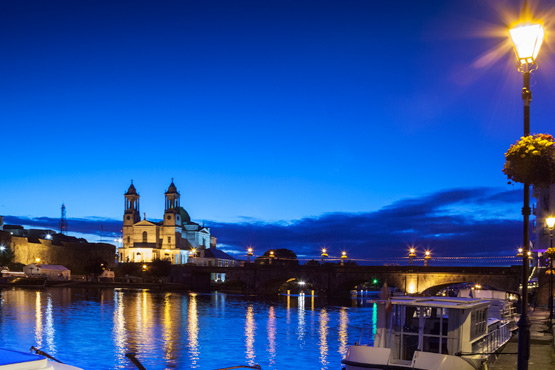 No trip to Athlone is complete without a visit to the 13th century Athlone Castle. The castle's keep is a national monument, and the visitor centre brings to life the stories of the town and its people from ancient through modern times.
Luan Gallery is Ireland's most spectacularly located gallery, jutting out right over the Shannon with barges and cruises motoring beneath your feet. The riverine light glinting in through the glass walls hypnotised you back into the former lives of this building as a Temperance Hall and a theatre where famous tenor Count John McCormack gave some of his earliest performances. The Luan has strong links with IMMA so the art is a mix of the best international and local works.
On a guided tour of McKernan Woolen Mills you can see the carefully restored 19th century Hattersley looms and state-of-the-art knitting machines in action.
Discover the fascinating process of textile manufacturing in a historical context and the passion, skill and many hands necessary to create their bespoke products.