Irish River Walking Cruise
(Charter Only)
Our Trails and Walkways are Waiting
Our Walking Cruise embraces the luxury and comfort of barging, along with the satisfaction and exhilaration of quality walking tours.
For avid walkers, this is the perfect chartered river cruise. The lush countryside along the River Shannon provides a truly wonderful trail for an Irish walking tour cruise. The barge cruises a uniquely-beautiful route that has changed little through the centuries. We moor at pretty lakeside villages and towns along the waterway, and from the luxury of your floating home we explore trails and ancient walkways that are steeped in Irish history and mythology.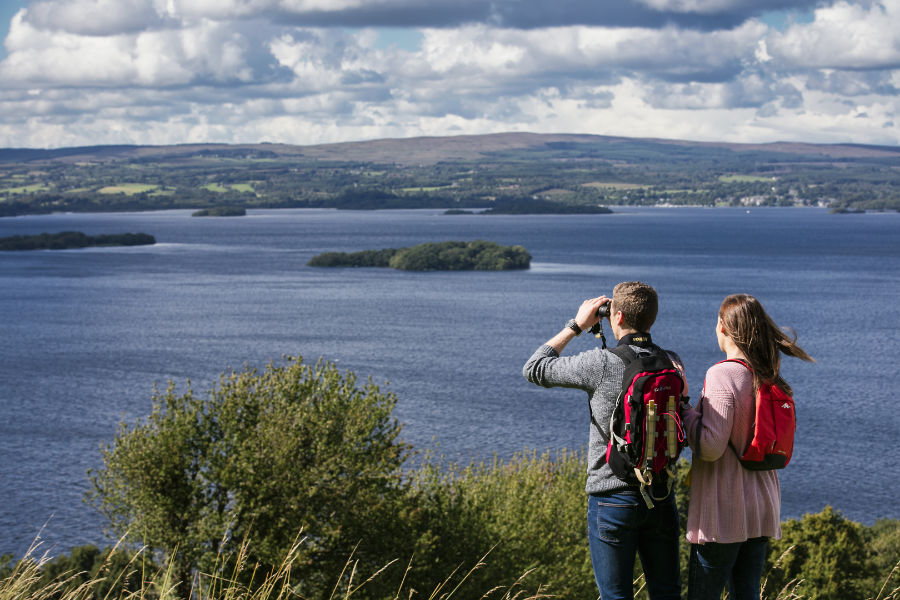 Your Walks
Our Walking Cruise walks take in The Pilgrims Path, The Slieve Bloom Way, the Arra Mountains and the neolithic Graves of The Leinstermen and The Tain trail on Lough Ree.
Your Guide
Each of our walks covers between 14-20 km per day, and all are hosted by our professional Walking Guide.
The Beauty of The River Shannon
Shannon Princess glides through countryside little changed through the centuries. Its ancient walking trails await your discovery. Explore natural stretches of past highways that wind along the Shannon's floodplains and hinterlands. Soak up the mystery, myth and drama of Ireland's past as well as the abundance of flora and fauna.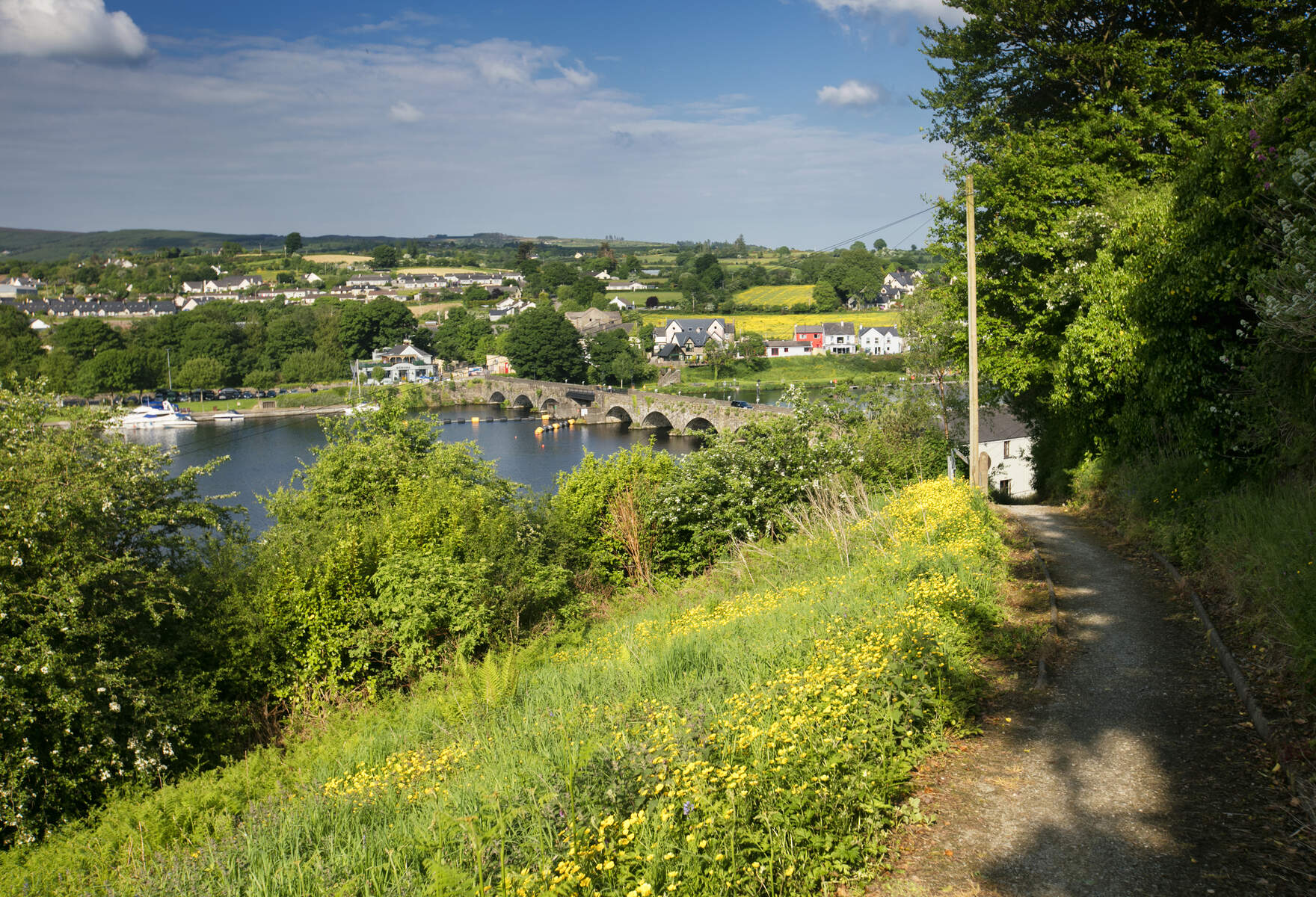 Itinerary
Treasures, Trails, Walks and Waterways
Day 1: Sunday Quigley's Marina, Glasson and Lough Ree
Your Irish story begins when you are met by the Barge Guide at 3pm at the designated Dublin hotel – and then transferred by luxury coach to the Shannon Princess in Glasson, Athlone. Here you're treated to "Cead Mile Failte" - a hundred thousand welcomes – as the barge Captain and crew welcome you on board our floating luxury hotel with a special champagne reception.
As the evening sets in, take the time to relax on deck, meet new friends or explore our charming lakeside mooring and local places of interest. Your day is crowned with your first beautifully-prepared gourmet dinner – a symphony of the finest local ingredients, freshly and passionately prepared by our professional chef.
Day 2: Monday Lough Ree and The Shannon
This morning our barge glides silently through countryside that has changed so little through the centuries and which now awaits your discovery. You relax and unwind as we cruise the beautiful Lough Ree and its 'Inner Lakes' – past the area's 365 wooded islands and along the majestic shoreline that is home to stately riverside homes.
Arriving in Athlone Town, you set off on an afternoon walk along The Tain Trail - the legendary route that follows a section of the entire march made by Queen Maeve in the legendary Cattle Raid of Cooley. We join the Trail along the Shores of Lough Ree, where Maeve met her bloody end, and follow the route for 3 to 4 hours. This is a charming lakeshore byway with woodland and undulating walking with stunning scenery.
Day 3: Tuesday Morning Walk: The Pilgrim's Path
After a short cruise through the 'Callows' - an area rich in beauty and bird life – we moor at Clonmacnoise ruins. Here you experience the mystery, myth and drama of this atmospheric, spiritual 6th Century monastic settlement which was the ancient burial grounds of the High Kings of Tara and became a popular place of pilgrimage. You take a guided tour of the site, then set off on our Walking Cruise Trail on The Pilgrim's Path.
This ancient walking route crossed early historic Ireland from east to west and was known in Gaelic as An tSlí Mór - the Great Road. The modern Pilgrim Path covers an intact stretch of the ancient route and winds along the Esker Riada – giving you an elevated view of the bog and River Shannon, rich in wildlife and flowers. We follow the trail for 3 to 4 hours, crossing gently-undulating, natural terrain and enjoying the abundance of flora and fauna as we go.
Returning to the Shannon Princess, we prepare to cruise on to the scenic village of Shannonbridge.
Day 4: Wednesday Morning Walk: The Slieve Bloom Way and Leap Castle
We travel by luxury coach to the nearby Slieve Bloom Mountains – an area of natural beauty steeped in history and folklore and straddling the border of counties Offaly and Laois. (The highest peak, at 529 m, is Arderin – which is Irish for 'the height of Ireland'.)
You discover so many connections with the past, as you travel through countryside dotted with monuments that stretch back as far as 4,500 years. You enjoy a 3 to 4 hour walk along riverside paths, bog tracks and woodland trails, before arriving at Leap Castle.
Here you're treated to an exploration of Ireland's 'most haunted house'. Residents Sean Ryan and his family greet you and share with you the fascinating history of the castle and the part it played in founding the American Constitution. A renowned local musician, Sean will gladly play a few tunes, possibly accompanied by his talented young daughter who will share her impressive dancing skills. The day closes with a beautiful evening cruise to Terryglass in County Tipperary.
Day 5: Thursday Morning Cruise on Lough Derg and The East Clare Hills
The Shannon Princess sets sail through the famously beautiful Lough Derg. We pass Forrest Park and the ancient mountains and set our course for Mountshannon – a perfect lakeside village perched above the Lough.
Starting in Mountshannon, we then set off on The East Clare Way walk – a 127km route of marked highways and byways. You enjoy a gentle climb up through riverside villages and into the Slieve Bernagh Hills: a 3 to 4 hour walk on natural terrain and trails with moderate gradients. You'll walk through Lough Derg's landscape that is rich in beauty, colour and variety – and overlook some of the most spectacular scenery in the whole of Munster.
Day 6: Friday Morning Cruise, The Graves of the Leinstermen and Killaloe
Prepare to literally go with the flow! This morning we travel down through Lough Derg, with its many islands and medieval strongholds, and follow a dramatic route carved through the hills and valleys of Munster's North Riding. You'll love how the river sweeps past banks charmingly dotted with wild horses, crumbling castles and picturesque villages.
Mooring in Killaloe, once home to the court of the last High King of Ireland – Brian Boru, we take a hike into the Arra Mountains. Arriving at the summit of Tountinna you discover the Graves of the Leinstermen – a megalithic monument on the slopes of the Arra Mountains and surrounded by mystery and legend. (You'll also see evidence of the area's great slate quarrying tradition.)
You marvel at the magnificent views, while walking through land carpeted with blanket bog and many kinds of heather. This rewarding walk takes you between 3 and 5 hours, on natural terrain and with moderate gradients.
Back on the boat, you're treated to a farewell dinner of fine fare and wine.
Day 7: Saturday Killaloe / Depart
After breakfast you will be transferred by luxury coach to Dublin (where your tour ends) – arriving between 11.30am and 12 noon. We bid you farewell, until your next adventure with us…
Please note: our luxury bus is in attendance on all walks – giving you the freedom to extend your walk or return to the barge as you see fit.
As with all Shannon Princess cruises, our Walking Cruise Itinerary can be adapted and changed to suit your specific tastes and preferences. Perhaps you'd like to include more sightseeing – and select from a wide variety of shore excursion choices – from visiting a cheese maker or traditional hand weaver, to enjoying the rich culture and energy of exciting Galway City on the Atlantic shore. Whatever your wishes, we will do our absolute best to deliver.