A Charming Barge for a Perfect Cruise Vacation
The Shannon Princess has been thoughtfully designed for a great European barging vacation. The barge's inviting interior makes a charming 'Home away from Home', where relaxed luxury blends with a warm Irish welcome. Guests on board will savour all the indulgent comforts of their own private floating hotel.
Your Accommodation
Our hotel barge provides luxury accommodation for up to 10 guests in five - shipshape, fresh and chic cabins, each with its own modern en-suite bathroom. All of the light filled cabins can be arranged in a twin or double configuration with either single or double - queen - sized beds. For more space we suggest the twin layout. Our doubles are super comfy, the bed is in a mid cabin layout - with access from both sides of the bed. The bathrooms are fully stocked with handmade local artisan soaps and organic bath produce, along with towels, slippers and bathrobes. Most importantly, all cabins are situated above the waterline with large opening riverside picture windows. Excellent storage is provided with hanging and shelved wardrobes and drawers. The cabins have central heating, air conditioning and Wi-Fi.
Relax in the Saloon
The saloon on board Shannon Princess is nautical-chic, with a mix of coastal tones and natural furnishings. The spacious yacht style saloon, also enjoys large opening panorama windows as well as its own foredeck area. The welcoming atmosphere is enhanced by local craft and art. The Saloon has accommodations for 10 guests, with a dining area, comfy sofas, armchairs and coffee tables, Bose speakers, air conditioning, central heating and Wi-Fi. It's the perfect space to relax and watch the world drift by while enjoying great Irish hospitality.
Watch the World Float by on our Sun Deck
Our upper deck features a spacious terrace-style sun deck – with spa pool/hot tub and BBQ, over-sized cushioned sofas, sun loungers, deck chairs and tables.
It's the perfect place for yoga, relaxing, alfresco summer dining, or sundowners on deck. We keep our touring bikes here also.
Set your watch to Shannon time and watch the world float by.
Our Touring Vehicle
We use a stretch Mercedes Sprinter Van as our Land Tender to the Shannon Princess. Our touring van is furnished with just ten leather window-side captain's chairs with extra leg room. The vehicle is also equipped with refrigerator, Aircon, iPad holders, charging ports & Wi-Fi.
Our vehicle and drivers are licensed by the Irish Department of Transport.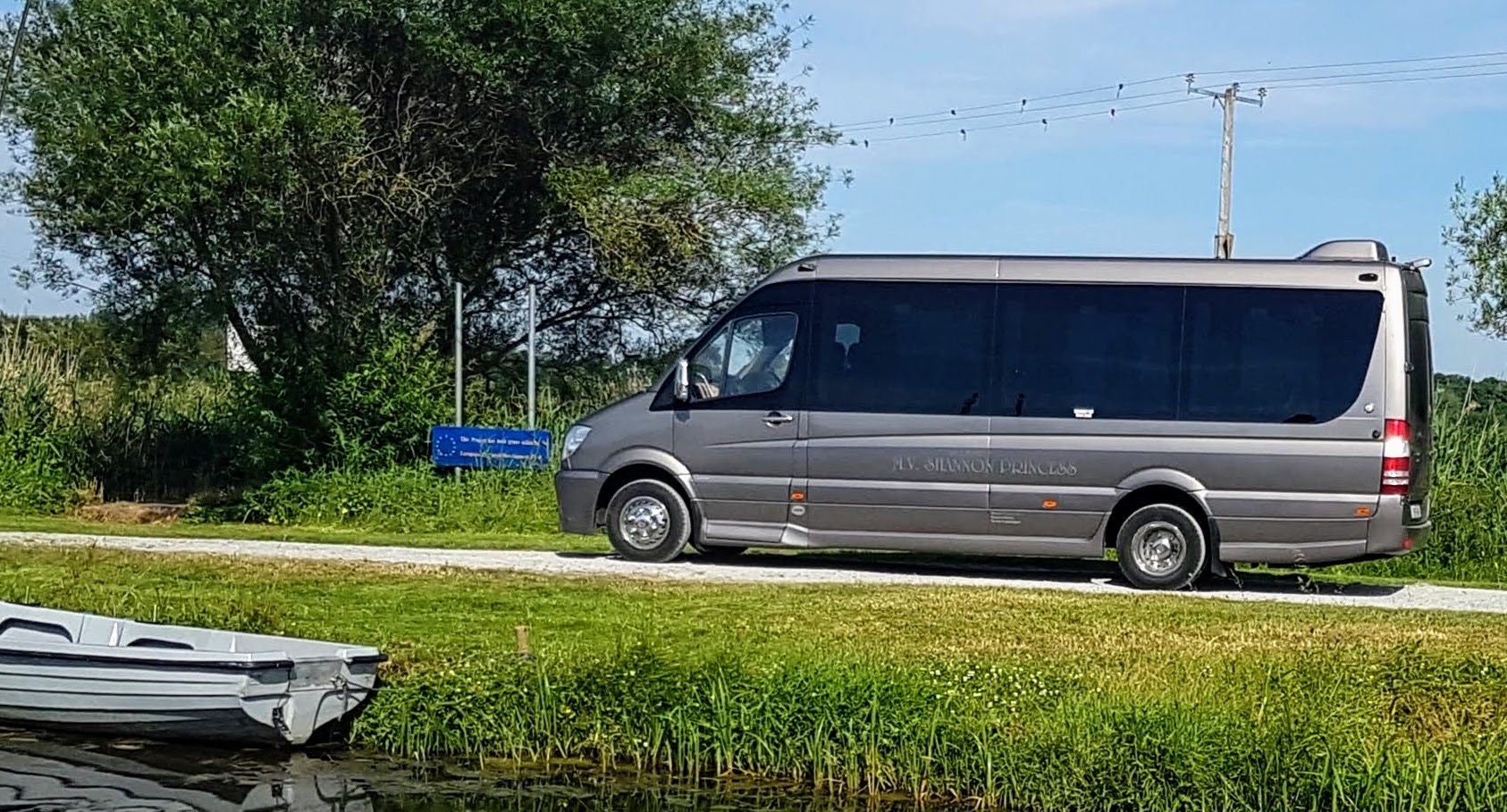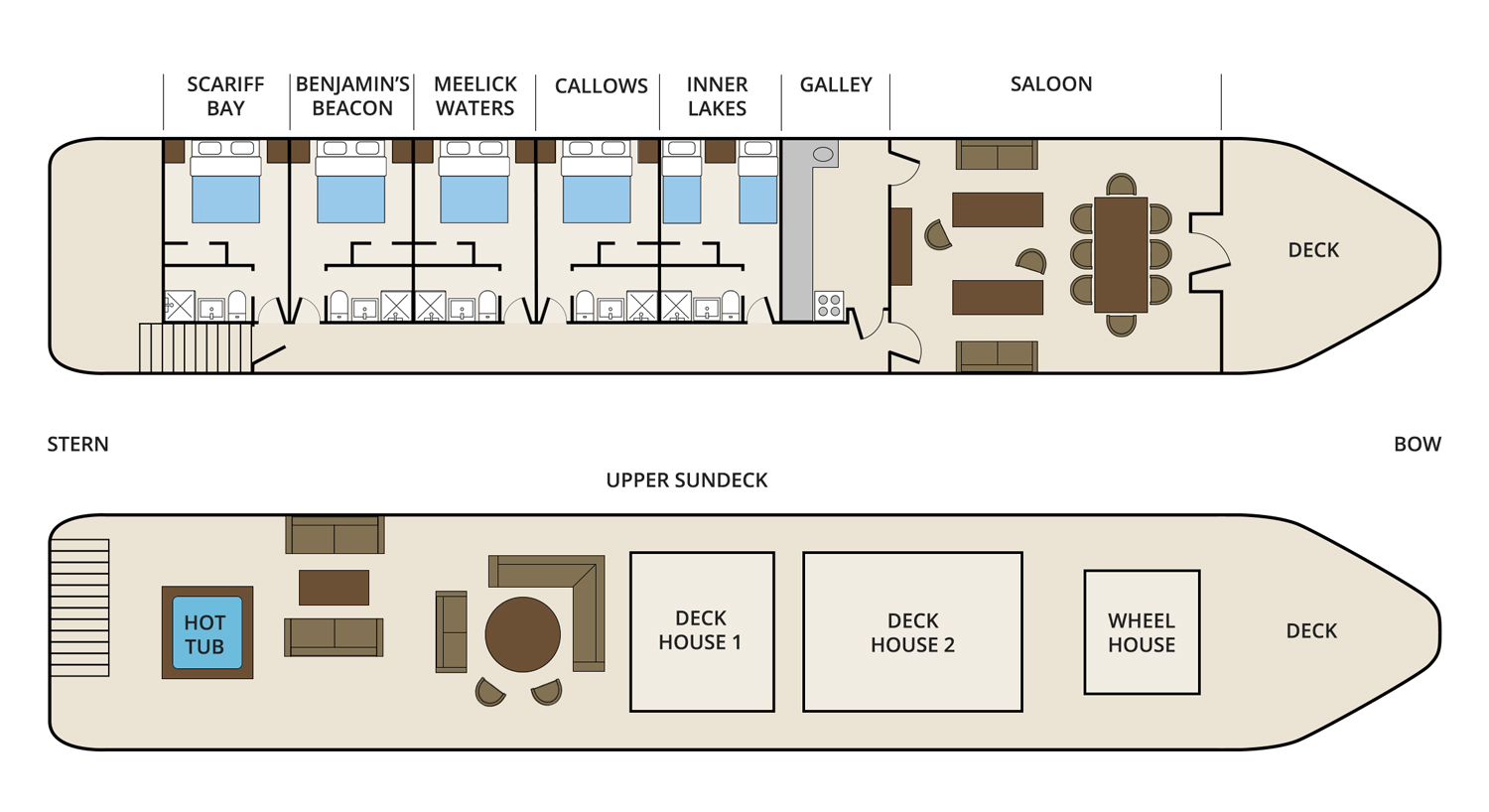 Upper Deck
Large terrace-style Sundeck
Spa pool
BBQ area and bike storage
Wheelhouse and Captain's Quarters
Shannon Princess is licensed as a Passenger Vessel by the Irish Department of Agriculture, Food & the Marine.
Accommodation Deck
5 Equal Twin or Double Cabins
Saloon area with front deck area
Size Overall
Length – 35 meters / 115 feet
Beam – 5.5 meters / 18 feet
Shannon Princess is licensed as a Passenger Vessel by the Irish Department of Agriculture, Food & the Marine.
Shannon Princess's Tender Vehicle is licenced as a Public Service Vehicle by the Irish Department of Transport.
          A huge "Thank You" - to wonderful photographers Corin Bishop, Oliver Murray, Kit Foreman, and Robert Joy for their gorgeous images.