Your World-Class Golf Vacation
There's no better way to explore some of Ireland's best golf courses than by taking a cruise on the River Shannon and spending quality time on the greens. Set against the backdrop of the beautiful Irish countryside and scenery, our Golf Cruise invites you to follow in the footsteps of golfing legends and play on four Irish world-class golf courses.
The Best of the Best Courses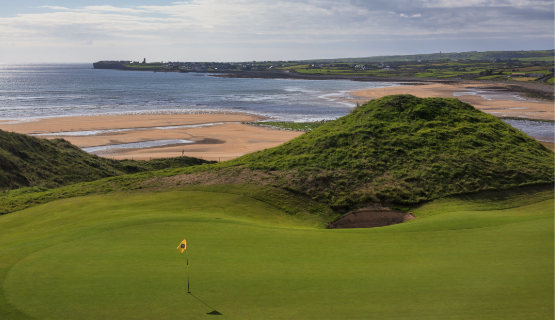 Lahinch Golf Club – The Old Course
You'll enjoy a round of 18 holes at this world-famous golf course which is one of two at the esteemed Lahinch Golf Club. Golf at Lahinch dates back to 1892, making it one of Ireland's oldest clubs.
Designed by Tom Morris and Alister MacKenzie, it can offer up some challenging holes and awkward bunkers, and many of the greatest players in the world have tested their skills here. You'll be surrounded by breath-taking scenery and views – and there's even a ruined castle and some resident wild goats to complete the picture!
Adare Manor Golf Club
Set within the picturesque village of Adare, with its ancient thatch cottages and historical sites, sits this exquisite parkland golf course designed by the legendary Robert Trent Jones, Senior. It covers 230 acres of lush Irish countryside, dotted with lakes and rivers along the way.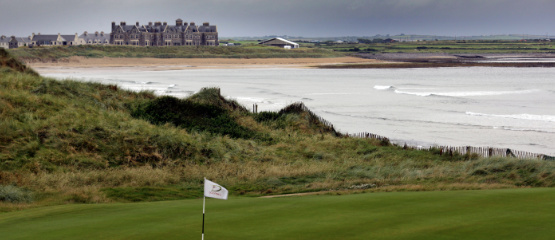 Trump International Golf Links, Doonbeg
Trump Doonbeg is regarded as one of the top golf resorts anywhere in the world - situated on over 400 acres of Ireland's most spectacular links overlooking the majestic Atlantic. The links comprises 18 holes, beautiful rolling fairways, gentle contoured greens and staggering ocean views.
Glasson Golf Club
One of the most scenic courses you will play in Ireland, Glasson has a mature 18-hole golf course designed by golfing legend Christy O'Connor Jr. You'll take in spectacular views of Killinure Bay, and the inner lakes of Lough Ree can be enjoyed from every hole on the course. Top quality fairways and greens allow for excellent playing conditions pretty much all year-round.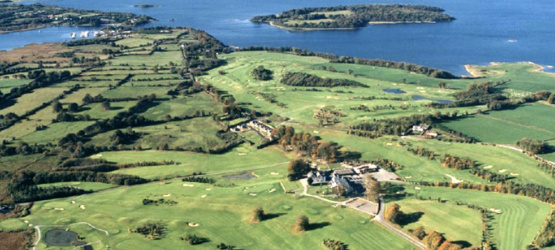 The Shannon Princess Golf Cruise
Play the Finest Greens on the Emerald Isle
Day 1: Sunday Welcome to the Waters and the Wild...
Your Irish story begins when you are met by the Barge Guide at 3pm and transferred by luxury coach to the Shannon Princess in Killaloe. Here you're treated to "Cead Mile Failte" - a hundred thousand welcomes – as the barge Captain and crew welcome you on board our floating luxury hotel with a special champagne reception.
As the evening sets in, take the time to relax on deck, meet new friends or explore our charming lakeside mooring and local places of interest. Your day is crowned with your first beautifully-prepared gourmet dinner – a symphony of the finest local ingredients, freshly and passionately prepared by our professional chef.
Day 2: Monday Adare Manor Golf Course and Cruise to Mountshannon
After a hearty Irish breakfast, it's off to the beautiful picturesque village of Adare in County Limerick, to play the exquisite 18-hole Adare Manor Golf Course. This beautiful country estate with imposing 5-star manor house hotel features a breath-taking parkland golf course set on 230 acres of lush Irish countryside, with lakes, rivers and incredible views throughout. A golfer's paradise.
Day 3: Tuesday Trump International Golf Links, Doonbeg and Cruise to Terryglass
Time to head off Atlantic Ocean side to experience the legendary Trump International Golf Links in Doonbeg - one of the top golf resorts in the world and set majestically on 400 acres of spectacular links. Afterwards we treat you to a leisurely cruise to the beautiful village of Terryglass in County Tipperary.
Day 4: Wednesday Lahinch Golf Club and Cruise to Banaher
Time to experience one of Ireland's oldest golf courses situated on the coast overlooking the mighty Atlantic Ocean in Lahinch, County Clare. Prepare for unpredictable winds coming off the ocean, which can add an interesting twist to your game. Then challenge yourself at the course's most famous holes: the par-5 fourth and the par-3 fifth.
Crown your day as we cruise on to Banagher in County Offaly, rich with castles dating back to the 14th and 15th centuries, as well as a 19th century Martello Tower. The river here is also a popular choice for pike anglers.
Day 5: Thursday Sightseeing and Cruise to Athlone
Today is your opportunity to take a break from the green and join the non-golfers for a day of cruising and sightseeing in Athlone, in County Westmeath at the very heart of Ireland. We treat you to a visit to the town's whiskey distillery – Kilbeggan Distillery – which dates back to 1757. You then have time to explore at your leisure – enjoying shopping and antiquing and joining an impromptu music 'sessions' at the town's local pub.
Day 6: Friday Cruise to Glasson Golf Club
This morning our barge glides silently through countryside that has changed so little through the centuries and which now awaits your discovery. You relax and unwind as we cruise the beautiful Lough Ree and its 'Inner Lakes' – past the area's 365 wooded islands and along the majestic shoreline that is home to stately riverside homes. After mooring at Glasson, you commence play at one of the most scenic courses you will play in Ireland – with each hole offering splendid panoramic views of Lough Ree. The course is crafted so you can tee off with a relaxing round and soak up the Glasson atmosphere – or test your game to championship level.
Day 7: Saturday We Say Farewell
After your last breakfast, you take your connecting transport to Dublin Airport or your hotel. Until we meet again…