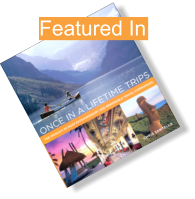 Shannon Princess is featured in Chris Santella's book
"Once In A Lifetime Trips"
Together they have brought their shared knowledge, experience and passion onboard the SHANNON PRINCESS to create a very personalized & bespoke cruise experience. MV Shannon Princess is a beautiful boutique hotel barge cruising the Fabled River Shannon in Ireland
"We are delighted to have been included in Chris Santella's book, ONCE IN A LIFETIME TRIPS. "The World's 50 most Extraordinary and Memorable Travel Experiences."
Buy On-line today at Amazon.com (ISBN 978-0-307-40692-7)