Our luxurious barge cruise has much to offer when it comes to fine dining! Throughout your stay on the Shannon Princess you will be spoiled for choice as we offer a wide selection of delicious foods from our menus. Fresh and flavoursome ingredients from local Irish food producers and suppliers are added to seasonal menus, satisfying the taste buds of all.
Check out our recipe below for Traditional Dingle Pie!
Our Chef
With a wealth of experience in the food and hospitality industry our chef, Olivia, combines the finest of Irish ingredients to create mouth watering dishes. She attended the world renowned Ballymaloe Cookery School in East Cork where she trained at the hands of the well known Darina Allen. She travelled the world following her passion for food. As a member of Slow Food Ireland the finest of local Irish food and produce are used as ingredients in our galley.
Local Irish Food Suppliers
We pride ourselves in serving fresh local produce on board Shannon Princess. As well as growing a range of food in our own gardens we source original fresh quality ingredients from a whole range of artisan producers. We love our visits to farm shops and country markets while cruising the shannon. As well as foraging for herbs and berries in the countryside, we have a wide local network of suppliers for our ingredients.
We source a range of cheeses from our rich farmlands including- Killeen Farmhouse Portumna and Cais na Tire cheeses Terryglass
At the Killaloe Farmers market on Sundays we purchase heirloom vegetables, local honeycomb, herbs, salad leaves, foraged mushrooms, teas and herb infusions, olives, charcuterie, smoked fish and traditional cured meats.
We gather freshly picked herbs, new potatoes, fruits, heirloom vegetables and fresh flowers for the barge from the beautiful kitchen gardens of Portumna castle.
We enjoy using unique ingredients like seaweeds for ice creams and mousses.
If you are a lover of fish enjoy a whole range of mackerel, trout or smoked salmon freshly sourced from the Burren Smokehouse.
All Ingredients are Local, Free Range and Organic!!
Enjoy an unforgettable experience on a luxurious barge cruise savouring the freshest of local Irish food -prepared daily in the barge's galley by our chef. Throughout the years we have taken pride in our reputation for excellence food and friendly attentive service. It will be our pleasure to wish you 'Bon appetite'.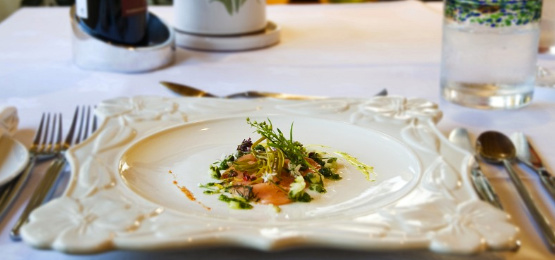 Traditional Dingle Pie Recipe
Preparation Time: 25 min
Cooking Time: 1 hr 30 mins approx.
6 servings approx.
Ingredients
For Stock
Lamb bones from the meat
1 carrot
1 onion
Stalk celery
Bouquet garni ( thyme sprig, parsley stalks and small bay leaf) tied with string
Filling
1 pound (450 grams) boneless lamb or mutton (from the shoulder or leg; keep bones for stock)
9 ounces (255 grams/ 2 1/4 cups) chopped onions
9 ounces (255 grams/ 1 3/4 cups) chopped carrots
2 good teaspoons cumin seed *
2 American tablespoons, plus 2 teaspoons flour (2 Irish tablespoons)*
10 fluid ounces (300 millilitres/ 1 1/4 cups) mutton or lamb stock
Salt and freshly ground pepper
Pastry
1 pound (450 grams/3 1/2 cups) flour
Pinch salt
9 ounces (275 grams/2 1/4 cups) butter
6 fluid ounces (175 milliliters/3/4 cup) water
Egg Wash
Water
1 egg, slightly beaten
Pinch salt
2 tins, 6 inches (15 cm) in diameter, 1 1/2 inches (4 centimeters) high
*Note: an Irish tablespoon is the same quantity as an American tablespoon plus a teaspoon
Method
Preheat oven to 400 degrees F (200 degrees C).
Make the stock. Add the bones from the meat, carrots, onions, celery and bouquet garni into a saucepan. Cover with cold water. Simmer for 3 to 4 hours to make a stock. Strain and set aside.
Make the filling: Cut all the surplus fat away from the meat. Cut the meat into small pieces. Render down the scraps of fat in a hot wide saucepan. Discard the pieces. Cut the vegetables into slightly smaller pieces and add them to the fat. Cook for 3 to 4 minutes. Remove the vegetables. Add the meat to the remaining fat over a high heat until brown.
Heat the cumin seed in the oven for a few minutes, then crush lightly. Add flour and cumin seed into the meat. Cook for 2 minutes. Add stock gradually. Bring to boil, stirring occasionally. Add the vegetables, season with salt and freshly ground pepper and leave to simmer, covered. If using young lamb, 30 minutes will be sufficient; an older animal may take up to 1 hour.
Make the pastry: Sift flour and salt into a mixing bowl. Make a well in the center. Put butter into a saucepan with water and bring to a boil. Pour the liquid into the flour and mix together quickly; beat until smooth. As soon as it cools it may be rolled out to 1/3 to 1/4- inch (2.5 to 5 millimeters) thick, to fit the 2 tins. Keep back 1/3 of the pastry for lids.
Fill the pastry-lined tins with the meat mixture which should be almost, but not quite cooked and cooled a little. Brush the edges of the pastry with the water and egg and put on the pastry lids, pinching them tightly together. Roll out the trimmings to make pastry leaves or twirls to decorate the tops of the pies. Make a hole in the center, brush the lid with egg-wash and then egg-wash the decoration also.
Bake the pies for 40 minutes. Serve with a nice green salad.